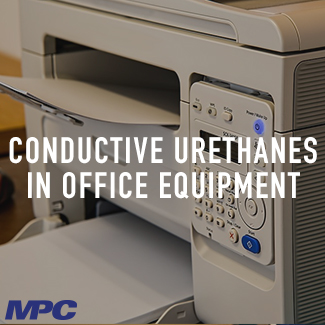 Did you know that both conductive solid urethane and conductive urethane foam serve a crucial purpose in the manufacturing of machines we use every day? Monumental innovations in the development of semi-conductive configurations of polyurethane have facilitated the generation of new and unique applications for this extremely versatile material. Specifically, business machines used in offices and printers around the including like office automation equipment, copiers, printers, collators, and transportation systems have all benefited from conductive urethane components.
We Innovate, You Benefit!
In the late 1960's, MPC pioneered the innovation of polyurethane rollers for copiers, and just a few short years later introduced the microcellular urethane platen for postal meters. Our advanced conductive urethane patents include conductive polyurethane rollers and pads used in electrostatic dissipation and tribocharge management for numerous applications. The many benefits offered by this new technology contributed to it's swift increase in popularity in many different industries. Along with the advanced technologies we've developed, our conductive urethane innovations have been at the forefront of advances in the business machine and office equipment industry for over 50 years, earning us our reputation as a technology leader in the industry.
Why Conductive Urethane?
The key purpose of using conductive urethane in both solid and foam forms is to dissipate a static charge without the use of conductive carbon black. Semi-conductive polyurethanes have become the most popular material for business machine components because they eliminate static buildup which can destroy these costly machines. With the use of semi-conductive components, the performance of assemblies vulnerable to electrostatic interference is greatly involved. At MPC, we formulate semi-conductive solid or foam polyurethane elastomers using our patented metal-salts technology.
Properties and Applications
The conductive urethane business machine components we manufacture offer superior abrasion and wear characteristics, improved chemical resistance, resiliency and durability, and sound dampening in an extensive range of applications. Conductive urethanes are very uniform in electrical conductivity so they are ideal for providing ESD protection in material handling, agricultural, and even mining operations. Conductive urethane formulations offer low conductant loading and migration, and the precise way in which we formulate them preserve strength, thermal stability, and resilience of the urethane material.
At MPC, we take the time to understand the unique applications of our customers, then develop custom formulations and fabricate semi-conductive polyurethanes which eliminate static buildup in a broad range of applications like load wheels, conveyor systems, paper handling system rollers, ride and attraction wheels, and material handling systems of all types! Are you ready to discuss how one of our semi-conductive urethane configurations could benefit your application? Contact us today!