Conductive Urethane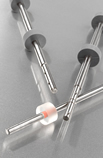 Conductive polyurethanes can be custom-formulated for semi-conductivity ranging from E7 ohm-cm to E9 ohm-cm. Semi-conductivity levels as high as E5 ohm-cm can be achieved with special formulation. These conductive formulations use very low percentages of proprietary additives to control semi-conductivity uniformly throughout the product. Using only small amounts of these additives preserves the strength, resilience, thermal stability, and service life of the original polyurethane.
Characteristics
Very uniform electrical conductivity
Low conductant loading
Low conductant migration
Negligible loss of urethane physical properties
Applications
Both conductive solid urethane and conductive urethane foam are widely used in office and paper handling machines including copiers, thermal printers, and laser printers. Conductive urethane is ideally suited for laser printer charge and developer rollers for toner dispensing and tribocharge management, and is also used in paper transport assemblies for copiers, fax machines, collators, postage meters, and other transport applications where static build-up is a problem. It can provide ESD protection in agricultural, mining, and materials-handling applications such as drive and conveyor belting, tank and bin liners, and hose and tubing. Other applications include antistatic drive belts for silicon wafer transport in clean rooms, and wheels and rollers for transport in static-sensitive environments.
Physical Properties
Click here to view tables representing the typical ranges of physical properties for our conductive urethane. For information about custom formulations and the specific values attainable for your application, please call our sales department at +1 (401) 946-4400 or email us at sales@mearthane.com. Read more about conductive urethane here.