About MPC
At MPC, our only product is yours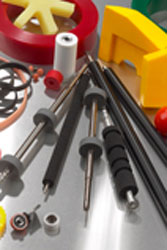 MPC's core technology is thermoset polyurethane – the material of choice in numerous applications because of its strong physical characteristics. Our high-performance solid, foam, and semi-conductive urethane elastomers offer OEMs significant benefits over other materials like neoprene, rubber, plastic, metal, and silicone. As a custom thermoset polyurethane manufacturer we offer polyurethanes which can be fabricated with variable mechanical and environmental properties including high load bearing capacities, hardness and abrasion-resistance, as well as elasticity, high-impact resistance, translucence, and resistance to oil, chemicals, ozone and radiation.
Some of our more widely recognized applications include:
Business machine components: rollers, platens, pads, sub-assemblies
Recreational products: wheels, footwear, balls, shock absorbers
Industrial products: rollers, bumpers, wheels, gears, belts
Semi-conductive and antistatic urethanes: electrostatic dissipation applications, tribocharge management rollers
If you're looking for a high-performance, low-maintenance, cost-effective component for an innovative application, MPC can help.