Manufacturing Facility
MPC operates a versatile 36,000 square foot manufacturing facility equipped with state-of-the-art customized high-volume urethane products processing machinery.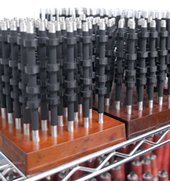 We've been manufacturing both high-volume (millions) and low-volume (hundreds) parts for fifty years. Our larger production runs capitalize on the economies of scale achieved through customized work cells, while our smaller projects benefit from flexible manufacturing capabilities that increase productivity without the expense of robotics.
For high-volume components, we use the latest and most sophisticated machinery equipped with computerized flow and temperature control as well as an automatic pouring table. This enables continuous or shot-by-shot pouring for constant charge weight and mold cleaning processes. For the small-volume items, we use automatic metering processors and other mechanical mixing equipment for compounding. Other equipment such as centrifuging, spin casting processors and pressure vessels are used in the production of rollers, belts and sheets to achieve a high degree of bubble-free urethane components.
MPC continues to invest in sophisticated computer-controlled processing equipment to streamline our manufacturing capabilities and maintain our position as a leading manufacturer of custom-formulated and fabricated open-cast polyurethane components. State-of-the-art casting equipment enables us to provide the optimum processing environment and widest range of product formulations, while our custom-designed assembly equipment enables us to provide the widest range of finishing options.