Urethane Foam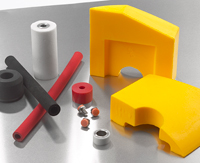 Cellular Urethane Foam
Cellular foam is chemically-blown, closed-cell urethane foam. MPC can formulate this foam to meet various physical properties (coefficient of friction, abrasion resistance, hardness and density) to suit your application. The rebound can be formulated for resiliency or energy absorption.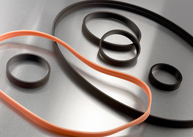 Features
Replicates performance of solid, with flexibility of foam
Excellent shock absorption and resiliency
Chemically blown
Self-cleaning, non-glazing
Larger, less uniform cell structure than Microcellular Foam
High tear strength and tensile modulus
Applications
Applications for cellular foam include self-cleaning paper feed rollers, retard pads, conveyor belts, bumpers, shock absorbers and timing belts.
Note: Can be foamed over solid foam to modify the outer layer of a timing belt to add media transport to the toothed timing function.
Physical Properties
Click here to view tables representing the typical ranges of physical properties for materials formulated from cellular foam. For information about custom formulations and the specific values attainable for your application, please call our sales department at +1 (401) 946-4400 or email us at sales@mearthane.com.