Digital Imaging
MPC carries Developer rollers, PCR rollers and Adder rollers for the most demanding print applications. MPC can develop formulations to meet OEM applications and specific remanufacturer requirements.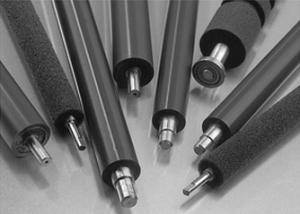 MPC has responded to the needs of those remanufacturers providing Managed Print Service dealers with commonly used Lexmark and HP parts. Using our expertise in conductive polyurethane chemistry, MPC has developed a superior quality line of polyurethane laser print developer rollers for both monochrome and color print engines. The monochrome line includes a roller for the Lexmark S&T series inclusive of the T640, T520, T620, T630, T640, T650, E260, E360 and E460 series and other compatible systems. For HP color printers, MPC currently provides replacement urethane rollers for the HP4600, HP5500, HP3500 and HP3700 series.
To get the current MPC developer roller and PCR replacement roller list, please click here.
To get STMC test data sheets, please click E460, HP4600, T640, and T650.
For information about custom formulations and the specific values attainable for your application,
please call our sales department at +1 (401) 946-4400 or click here to email an inquiry.